Because this "blog" is a recollection of a trip I took a few years ago,  and I'm writing it in segments as I get a chance.  I will apologize now,  if it's not flowing smoothly as it should.
Now Back to Paris
Palais de Tokyo

The Palais de Tokyo was originally called  "
Musée d'Art Moderne de la Ville de Paris
"  when it was built in 1937 to host the  International Exhibition of Arts and Technology.  It stands separated from the Seine by the Avenue de New York (formerly Avenue de Tokio from 1918-1945)
.
   It seemed to be one of the most neglected building exteriors I'd ever experienced in Paris. It's 1930's monumental nationalistic architectural style (very similar to EUR in Rome) is impressive upon approach, but as I entered the main pavilion, I was overcome by the desire turn around from the stench of urine and alcohol,  and the amateurish graffiti tags carelessly and hastily sprayed on the walls and statues. Don't turn back! There are some extraordinary works of contemporary and modern art inside. The permanent collection houses works from Fauvism, Cubism, Dadism, Surrealism to late twentieth-century art and furniture. The west wing of the museum displays temporary exhibits of contemporary art and installations. The Museum is open til 12am.
Musée du quai Branly
I have a long list of designers and architects I admire and Jean Nouvel is the latest on my list.  I felt I could have spent days just walking through the museum taking in the nuances of experience. The easiest way to explain my experience walking through the museum is comparing it to the movie  "The Fantastic Voyage".  You are an explorer and you've entered the capillaries of a complex organism. The museum features the indigenous art and cultures of Africa, Asia, Oceana and the Americas. It houses both permanent and temporary exhibits. This spectacular modern museum ingeniously designed by French architect Jean Nouvel opened in 2006 to controversy and speculation on the ethos of the design based on a colonialist ideology. Vantage from the street, a long green wall designed by botanist Patrick Blanc, initially captures your attention and partially hides the museum which rests on stilts. Upon entering the enclosure you are immediately struck by Gilles Clément's undulating gardens with a the multitude of aimlessly placed acrylic pylons that emerge from the ground.  However as evening approaches,  these glowing plexiglas tubes start to project splatters of surreal light on the underside of the museum. As you enter the museum proper,  you are again visually transported into another world of light and darkness.  The path flows from one level to the next and your eyes are allowed to focus on the beauty and uniqueness of each item displayed with out distraction.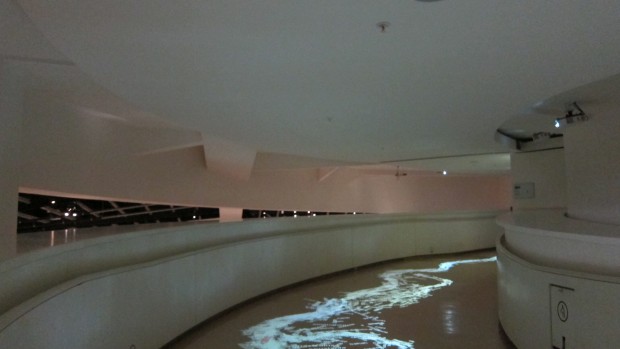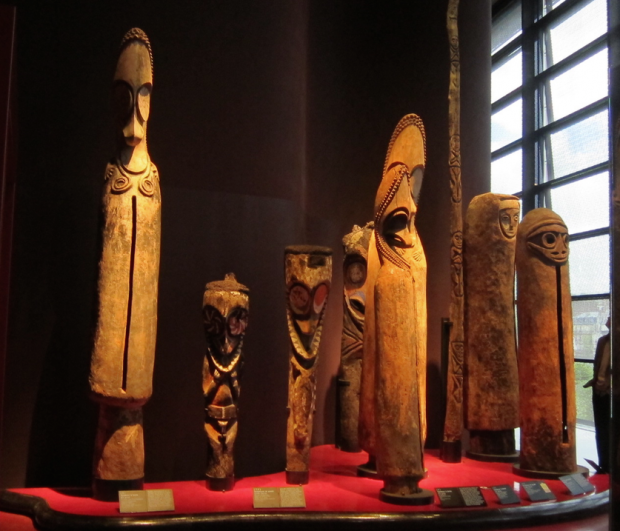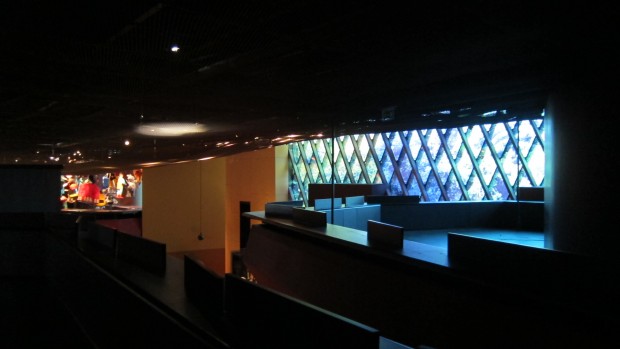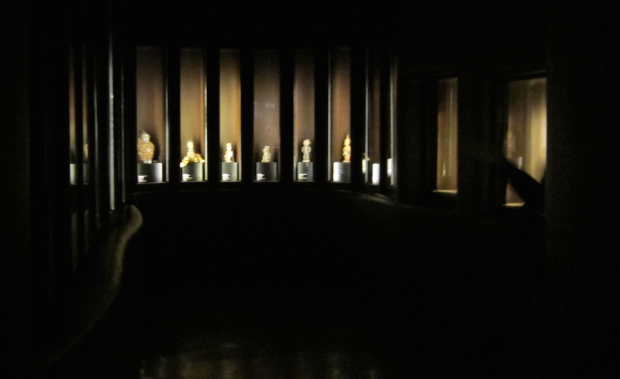 There's really no way to explain how ingeniously creative the flow of the space was designed to enhance your experience. And in this moment you realize why it took Jean Nouvel over 10 years realize his design. It's a museum that must be experienced. On another note, I wish that the Fondation Louis Vuitton deigned by Frank Gehry had opened while I was in Paris. Alas a reason for another visit! Lastly,  before I leave this amazing city,  I wanted to talk about the history of Parc des Buttes Chaumont.  It's amazing how with the right timing, right marketing, appropriate design,  and a few generations in between,  something with a bleak and horrid history can be turned into something else completely different.  As if it's history has been completely erased from sight!
Parc des Buttes Chaumont
Today,  it's a picturesque park with gardens,  rolling paths,  chalet gatehouses,  a grotto with a waterfall,  restaurant pavilions,  and a miniature roman Temple. Now to it's dark and slightly depressing history… The hill which the park derives it's name from,  in the 1300's became known as the "Gibbot of Montfaucon".  For over 400 years Parisian from miles around could see the decomposing corpses left hanging, at times,  for years from the massive gallows.  By 1760,  the guillotine had replaced the gallows, and the site became a refuse and sewage dump for the city of Paris.  After which it became a knacker yard,  and penultimately a gypsum and limestone quarry before it's final transformation to the extraordinary park it is today.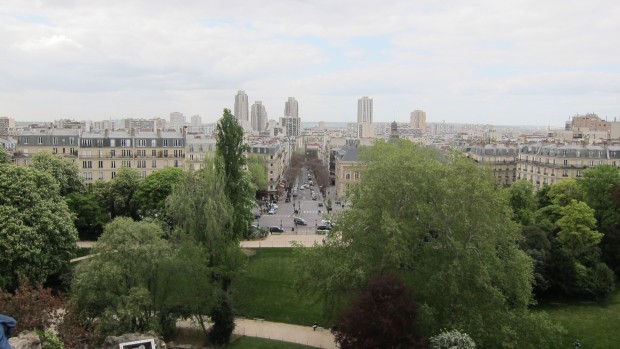 In 1860, the site was chosen by Napoleon lll's urban planner Baron Haussmann for a new public park in Paris.  Built by engineer Jean-Charles Alphand,  designed by landscape architect
Jean-Pierre Barillet-Deschamps
, and architect Gabriel Davioud,  the park opened in 1867 to coincide with the Paris Universal Exhibition.  Some of the many features of the park included a 65' grotto with an artificial waterfall,  Davioud's Tivoli inspired miniature Roman Temple of Sybil  and Gustave Eiffel's  200ft. suspension bridge allowing access to the Île de la Belvédère. I could go on for pages about Paris and all that inspired me in my short stay there,  but it's time to leave… and take the express train to Barcelona. Au Revoir Paris! Until next time.
Paris to Barcelona via SNCF
Before I start on Barcelona, I'll digress bit with some of my pre trip planning. If your budget is like mine, "LIMITED" and you like getting the most from the dollars you spend, a little bit of internet research goes a long way in making your trip safe, comfortable, worry-free and throughly enjoyable. If you prefer to skip this section…  About 4 months prior to my trip I did a bit of research on mobile phone plans, sim cards, transportation, travelers health insurance, hotels, etc.  All those little things that help ease the unexpected, unpredictable nature of travel. Looking into mobile/data plans: Telestial had the best international plan with the most versatile sim card for Europe and reasonable rates for my iPhone. Signed up for both phone and data service bundle. I think I spent $124 and ended up getting $70 of data free for prepaying. I even ended up with a pretty cool online journal provided by Telestial that allowed me to invite my contacts to receive the journal updates every few days or upon every update,  in addition to allowing them make comments to the posts. They also provided a great app that kept me updated on exactly how much data, phone and text I used. And so easy to refill. DUH I only refilled it once, adding $25 and it pretty much lasted me 5 weeks. You get a Us and a European number which you can keep for as long as you continue to put a bit of money in every six months. If you plan to travel abroad often it's nice to have. WiFi services plan: I signed up for Boingo. What a letdown. Perhaps they are better now. Off-line city maps app: I download Ulmon an offline city maps and travel app. It saved my data plan… as long as your location services is on and you've downloaded the map of the city you are in… you can't get lost. It even allows to you create a list of places you've visited and those you'd like to visit. If you download the PDF of the city that goes with the map, you get a bit of history on landmarks, museums , etc. It was amazing! I still used it on my latest trip to Myanmar. Hotel Bookings: Most of my hotels were booked through Tablet and Bookings.com Tablet has a list of boutique lodgings around the world with a nice price range. No surprises. Every hotel I booked through them went well beyond my expectations. Booking.com wasn't too bad. I used them more for the unexpected stay. I have to admit, I was extremely fortunate enough to have friends and family spread throughout Europe that I only needed to book lodgings in Paris, Barcelona, Nice, Amsterdam and Bath. Transportation: I purchased a Eurail Global First Class Pass from Rail Europe through a local agent. $955 for the Pass that was valid for 10 days travel within 2 month. I did have to however pay about $190 extra for SNCF, ICE, Frecciargento and overnight bookings once traveling. The pace set by traveling by train is relaxing and some of the lines had Wifi service you so could plan what you'd see at your next destination. You can download the Eurail/Interrail Rail Planner App for train and boat schedules. And if you decided you wanted to get there a little faster…EasyJet had great airfare rates. Tiny planes with limited baggage and carryon requirements, but nice price. Traveler's Health Insurance: World Nomads. Single Explorer Plan through Travel Guard. 1 month plan for $140. 24/7 emergency assistance… If you can't call collect, they call you back. They found me a doctor in Milan that came into the office on a Sunday, spoke fluent English and prescribed antibiotics for $200 all inclusive. Their customer service is amazing! Speaking the same language: iHandy Translator App. and Google translate. These however needed an internet connection to work. However, I found Soft Lingo Offers an offline Translator App for $11.99. If you take the extra time to do little research online it can make a nice trip into an amazing memorable one.