Week12-13:   Pre-Thesis Introduction and Literary Review
In reflecting on my process through this semester in Pre-Thesis, I see many instances where my search followed a path that I should have detoured from after a set period of time. This led to a measurable loss of time that I could not compensate for as the semester proceeded. And, that is the reason for this class. It was like a tech run before the show opens. My next steps are to continue my secondary research focusing on current treatments and interventions, and their validated results; create a realistic and approachable timeline for each phase of my project; finalize questions that I intend to ask experts, and line up those interviews to begin my primary research mid-summer.
What the analysis of my secondary research found was that up to this point, some form of cognitive behavior therapy used in psychotherapy and in internet-based interventions has shown to be the most effective treatment for adjustment disorder.  The most important factor in all treatments is support. Support from either family, friends, loved ones, colleagues, social networks, therapy groups, counseling groups, etc. Individuals suffering from adjustment disorder need to find a way to resolve their preoccupation and refusal to adapt to the situation that brought on their symptoms. Addressing these two factors according to ICD-11 Adjustment Disorder diagnosis criteria are core in a treatment plan. Current research is on-going and I just have to keep apprised of them, so my project remains relevant.
Questions that I would like to probe are:
What current stress-coping, anxiety-reducing, and self-reflecting techniques could be re-imagined for adjustment disorder?
When is the point for a timely intervention?
What are possible self-help interventions?
Are there ways to provide individualized treatments on demand?
How can we reach more people by embracing ubiquitous digital technologies to assist in treating adjustment disorder?
And, most (importantly/perplexing) had timely interventions been initiated, how many people – patients, their families and friends could have avoided the suffering from the debilitating effects and consequential results of adjustment disorder symptoms?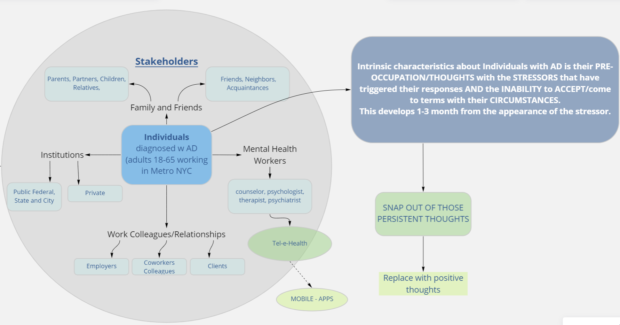 After organizing and categorizing my secondary research into relevant groups:
Adjustment Disorder – Overview, History and Symptoms
Diagnostic Systems – Overview, Comparison and Validation Studies (DSM-5 vs ICD-11)
Screening Tools – Self – Assessing Tools, Diagnostic Tools, Digital Assessing Tools, Survey Methods
Stress and Adjustment Disorder Treatments
eHealth Studies
Internet Self-Help Studies
Mobile Applications
Traditional Treatments – Psychotherapeutic and Pharmacotherapeutic
Resilience Studies
Virtual Reality Treatment Studies
Music Therapy Studies
My literary review begins with analyzing three studies using CBT as a therapeutic approach in treating AD on digital platforms: via mobile app- based, web-based and virtual reality based. The first was a  CBT Self-Help Internet-Delivered (mobile and web-based application) Intervention study in Lithuania by Kazluaskas, et al., (2020), to determine if low-intensity intervention, delivered via the internet or a mobile phone application could provide patients with specific coping and stress-management skills targeted at dealing with the stressor related symptoms. They also analyzed adherence predictors for online interventions.
The second study was a self-guided online intervention based on bibliotherapeutic treatment approach for symptoms of adjustment disorder developed by Moser, et al. (2019). base on a previously printed self-help CBT manual by Bachem, & Maercker, (2013) to study adjustment disorder on a control sample of Swiss burglary victims.
And the last study, was a virtual reality application initially developed in 2006 for the treatment of PTSD stemming from grief and loss. "It is an open and flexible adaptive VR device that adjusts its contents to the patient's needs, making possible to use this VR system to treat complicated grief and a variety of adjustment disorder cases, regardless of the stressful event that triggered them (e.g., a divorce, a firing, a serious disease, and economic problems)" (Quero, et al., 2019, p.209). The environments designed to stimulate different emotions can be selected by the therapist in real time. This study used a three pronged approach to analyze two adjustment disorder CBT treatment protocols (one protocol supported by VR Emma's World and another protocol applied in the traditional face-to-face way) compared with a waiting list (WL) control group in a RCT (Quero, et al., 2019, p.206).
What these studies showed me, was that there are many elements that need to be planned out to implement a study including recruiting participants, keeping them engaged, the determining the appropriate evaluation periods, the inclusion criteria, and deciding on the methods necessary to analyze and validate the resulting data.
Bachem, R., & Maercker, A. (2013). Ist das noch mein Zuhause. Mobiliar Versicherung: Bern, Switzerland.
Botella, C., Quero, S., Lasso de la Vega, N., Baños, R., Guillén, V., García-Palacios, A., & Castilla, D. (2006). Clinical issues in the application of virtual reality to treatment of PTSD. In Novel approaches to the diagnosis and treatment of posttraumatic stress disorder (pp. 183-195). IOS Press.
Kazlauskas, E., Eimontas, J., Olff, M., Zelviene, P., & Andersson, G. (2020). Adherence predictors in internet-delivered self-help intervention for life stressors-related adjustment disorder. Frontiers in psychiatry, 11, 137.
Quero, S., Molés, M., Campos, D., Andreu‐Mateu, S., Baños, R. M., & Botella, C. (2019). An adaptive virtual reality system for the treatment of adjustment disorder and complicated grief: 1‐year follow‐up efficacy data. Clinical Psychology & Psychotherapy, 26(2), 204-217.